Exercise tracks for everyone!
Hellasgården's outdoor facilities offer several exercise trails for those who want to run, cycle or just walk in beautiful nature and surroundings. The map above is posted on the site. A4 printouts in a plastic sleeve can be purchased at the reception for 20 SEK.

Marking of tracks

The marking of the tracks varies. All the light trails, marked on the map with black dots, are very easy to follow.


The tracks marked with dotted lines should also be clear and easy to follow.


The tracks marked on the map with coloured dots may be more difficult to follow if you are not familiar with them before. We recommend that you have a map with you, especially for the red and blue tracks west of Ältavägen. Orienteering maps are available from us.
Dialogue with the City of Stockholm on new track markings 
Hellasgården - the owner associations and we, who are responsible for the operation of the recreation and exercise facility - have been pushing for several years to update the trail markings.
Hellasgården has developed a proposal on how to mark tracks to increase accessibility, not least for new visitors, and safety.
A dialogue is ongoing with the City of Stockholm on this.
In addition to existing exercise trails and hiking trails, this dialogue includes a proposed MTB trail.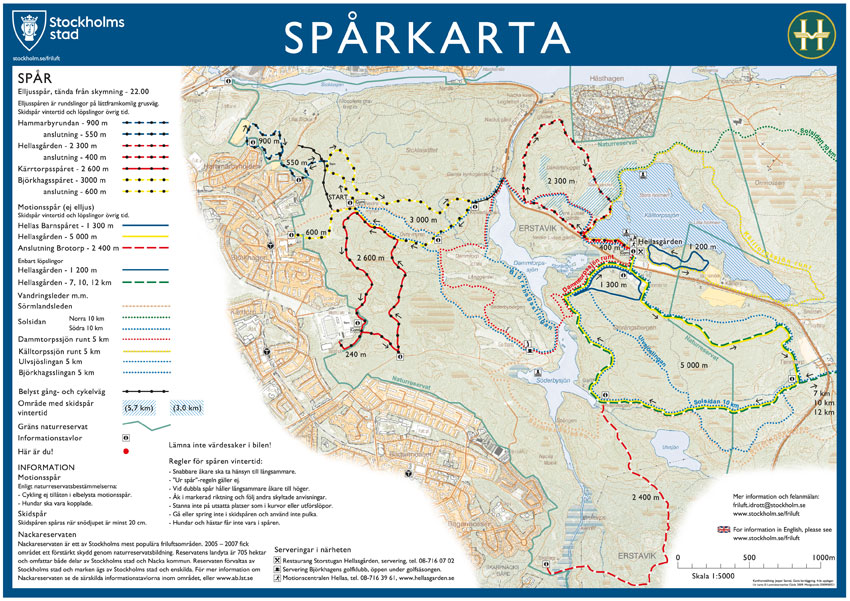 Elljusspåret
The firework trail is lit until 10pm.
Running group for young people with disabilities on Tuesdays at 18:00
(This activity is currently suspended. We will come back with information later.)
A group for kids and young people who want to run will start at Hellasgården on 13 September.
You can sign up via the Baravanlig Facebook page, or by email to niclas@baravanlig.se.
Runners group on Thursdays at 18
(This activity is currently suspended. We will come back with information later.)
Run with us!
If you want to run with
company is welcome to our running groups at Hellasgården. Everyone is welcome, regardless of ambition level (but you should be able to handle a challenging warm-up plus easy running 2.5 km).

- Every Thursday at 18:00, meeting at the reception
- No pre-registration, but we want you to sign up on our email list and preferably also FB page.
- If you want to finish your session with a sauna, shower, changing room and gym, you pay the usual entrance fee of 60 SEK.
Structure:
Joint warm-up with strength and running technique.
Everyone then completes 2.5 km of easy running. Those who want to do more then continue for one or more laps on the 5 km track, or equivalent.
We usually have a leader in place, if not we will announce this in advance on the mailing list, FB and the website.
For questions, call Hellasgårdens Leonas, 0700725275 or Mikael 070-787 58 53
or send an email to hellasorienteering@gmail.com
Try orienteering with Hellas!
If you want to run even more in the forest, we recommend you to contact Hellas orientation, which has open training sessions every week.

If you want to try orienteering on your own, you can take a look at the weekly orienteering course, which you can find at our reception.