Skate on Källtorpssjön! Skates for rent
(2022-03-17) The skating school is closed until further notice. See status below. 
Rent state-of-the-art cross-country skates from us.
We only take bookings online.
When you pick up your equipment, you must show a valid ID.
We do NOT take bookings via email/phone/sms/facebook/instagram.
Thanks in advance!
Status isen:
(2022-03-17)
The sun warms up a lot during the day and the ice becomes soft. The heat makes the ice weaker every day. We have therefore decided to close the rental, probably for the season.
The skate rental is located in a separate building next to the sports centre.
We have a state-of-the-art range of ski boots and skates from Lundhags.
Remember that all skating is at your own risk. Read more about ice safety below.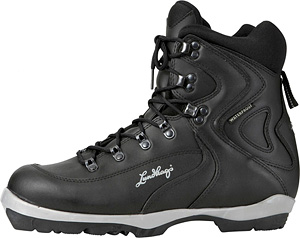 Pitch and shin with rat's foot formation (loose heel). Sizes 36-45.
Price
A pair of skates with boots: 200 SEK/hour
Sticks for skates: 80 kr
Knee pads: 30 kr
Ice cube: 20 kr (sold for 190 kr - temporarily out of stock)
Lifeline: 90 kr
Ispik: 90 kr
We recommend that everyone who goes out on the ice is equipped with a lifeline and ice ropes. The equipment is collected and changed outside. Bring warm clothes! We do not accept any shoes or bags for safety reasons. There is a changing room and sauna in the building next door.
Remember!

All stays in naturis are always at your own risk. This also applies to skiing on the ice. We recommend that you watch the film In case of accident.