Mountain biking in Stockholm - with us you can rent an MTB
How to rent a mountain bike
You can rent 2 hours, 4 hours or a full day. Our normal opening hours are 10am-8pm weekdays and 10am-6pm weekends.
Price:
350 kr/2 hours
540 SEK/4 hours
750 kr/full day
You can also book for a whole group with a knowledgeable guide.
Extra charge 200 kr/person. Minimum number of people for group bookings with guide is 6.
If you are a smaller group and want to book a guide, the price for a guide only is 1500 SEK for two hours.
If you want to book a guide, the easiest way is to send us an email, or call us during our opening hours. 
Helmet included in your rental.
The MTB rental is located in a grey wooden building near the entrance to Hellasgården.
The bike hire is staffed by a very knowledgeable and experienced former racing cyclist every day 10-16, but rentals can also be made outside these hours. You can reach our MTB expert on weekdays 10-16 on phone 070-606 77 49. (Please respect these phone hours.)
At other times you can call 070-787 58 53.
If staff are not available at the MTB rental, customers should report to the reception desk and the staff there will assist them.
Read more here about where and how you can cycling in the nature of Nacka.
Here you can see what sizes we have and the recommended length. Note that it is often possible to have a bike that is a size above or below the recommendation - this is regulated by saddle height.
XL (190+ cm)
L (175-190cm)
M (165-180cm)
S (150-165cm)
XS (135-150cm)
Welcome!
Want to cycle with your colleagues or friends, read more and book here.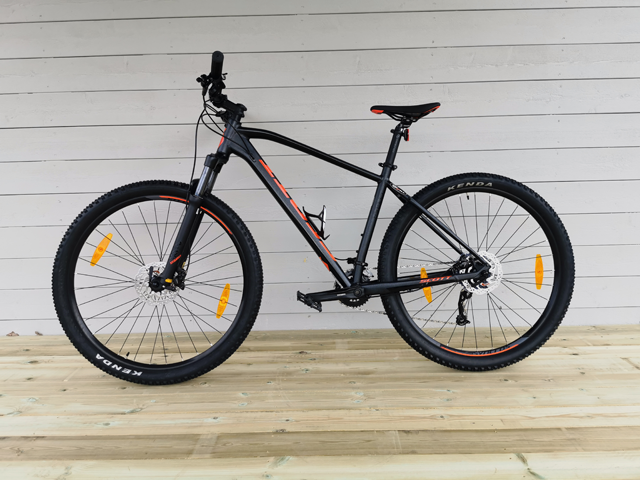 The bikes we rent have front cushioning and are available in sizes from XL to XS and are made by Specialized and Scott.
We explain where you can cycle
Here you can download free of charge the most common tracks around Hellas. 
For the beginner and the recreational cyclist:
For those looking for varying degrees of difficulty, we suggest you head to Tenntorp.
There you will find gravel roads as well as large and small paths.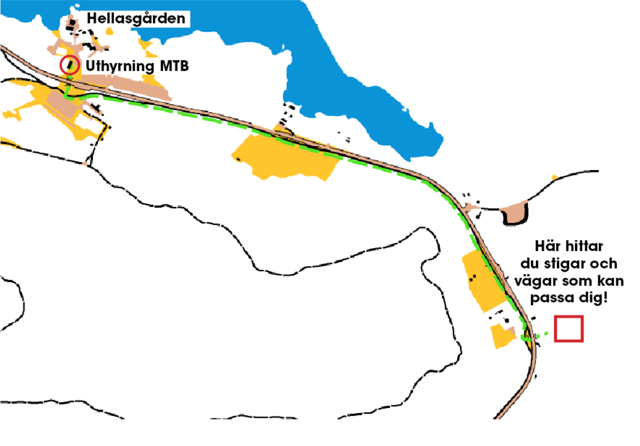 How to find:
Cycle through the viaduct that you see from the rental.
There you turn left on the footpath - see the sign "MTB - mixed difficulty".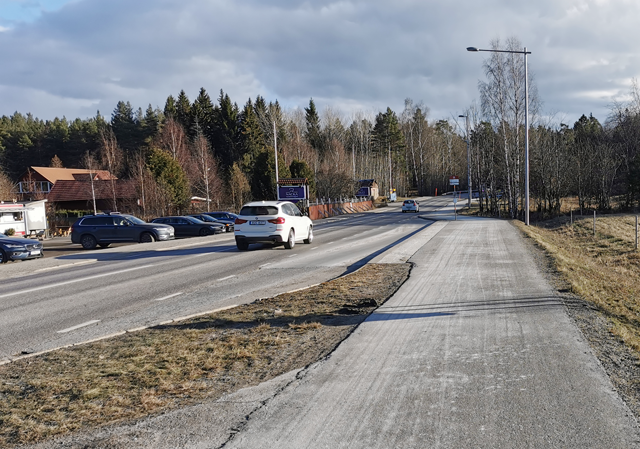 Follow the footpath along Ältavägen for about 1 km, see green line on the map above.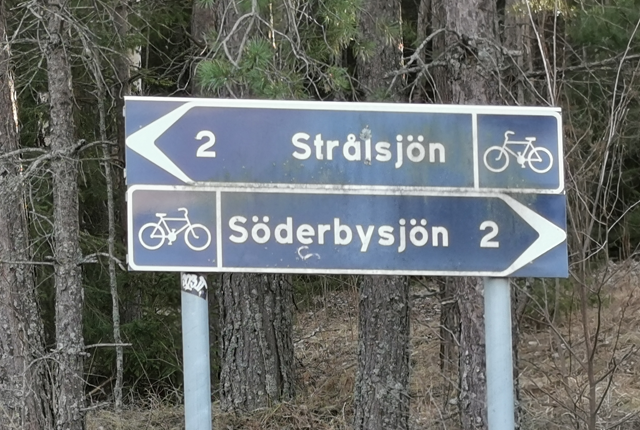 You come to a junction with signposts for cyclists.
Turn left through the viaduct.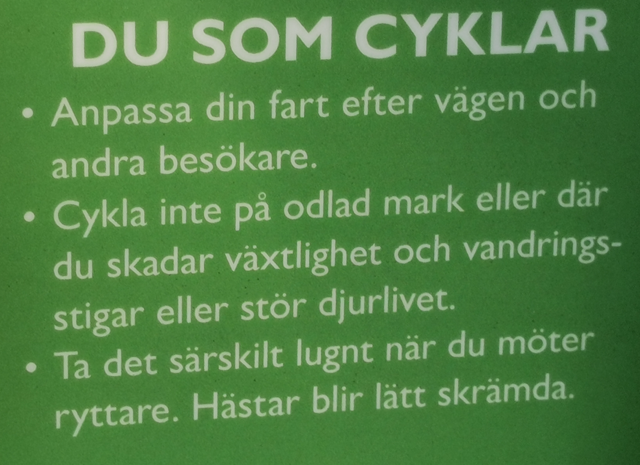 Read the local regulations on what applies to cyclists in the Erstavik area.
Adjust your speed to the road and other visitors.
Do not cycle on cultivated land or where you damage vegetation and footpaths or disturb wildlife.
Take it especially easy when meeting riders. Horses are easily frightened.
From where you are now, you will find both dirt roads and large and small paths.
For those who want a marked trail, we can recommend the green marked trail, which offered mixed challenges.
If you want to compose your own route, we suggest that you look at the maps posted in the terrain.
Orientation map over the entire Nackare Reserve can be a good tool, which you can use many times. The map is available at Hellasgården, in the The lakeside café/reception.
A mobile phone can be an extra security.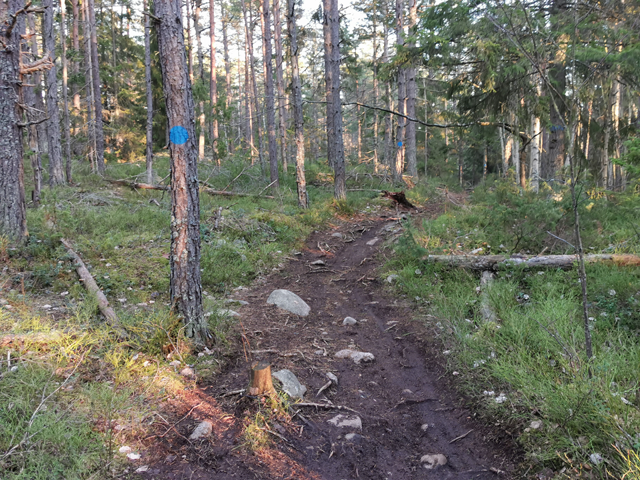 For the experienced cyclist - and for those who want big challenges:
The blue-marked so-called Cycling Trail leads you straight into the forest, where the trail winds its way on mostly small paths, over a boardwalk, through some wet areas, over rocky outcrops and countless roots.
This trail is not recommended for children and inexperienced cyclists.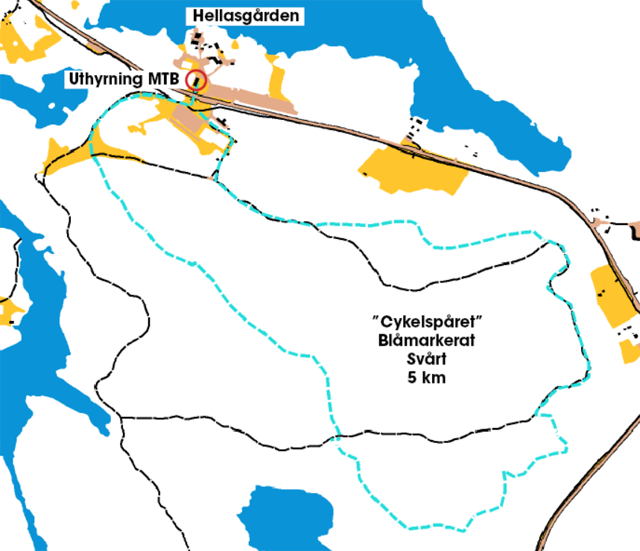 The track starts at the rental. Here you can download a map with all our tracks!
You cycle through the viaduct that you see from the rental.
Turn right onto the footpath - see the sign "MTB - cykelspåret".
After about 100 metres, when the footpath forks, keep left.
After another 200 metres, turn left across a meadow. See the blue sign with arrow and the text "MTB".
The track enters the forest on the other side of the meadow, you can't miss it.
Here are some pictures from the trail that for many years has been used by many cyclists and that is nowadays called Cykelspåret, or - in the MTB community - Våta Fötter.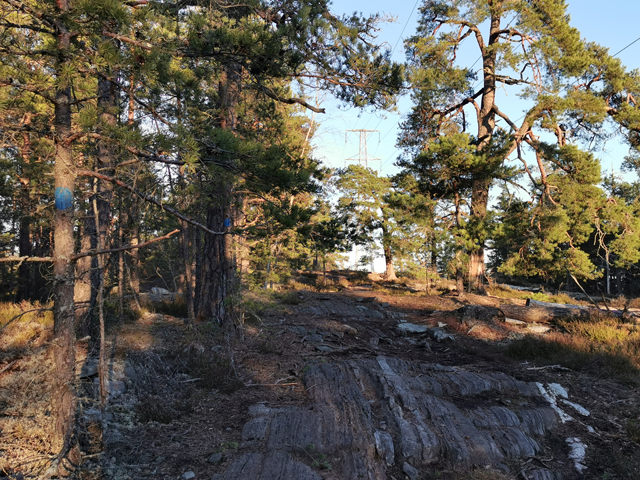 Challenges with counterflow and downflow loops. Here a mountain pass after half the distance.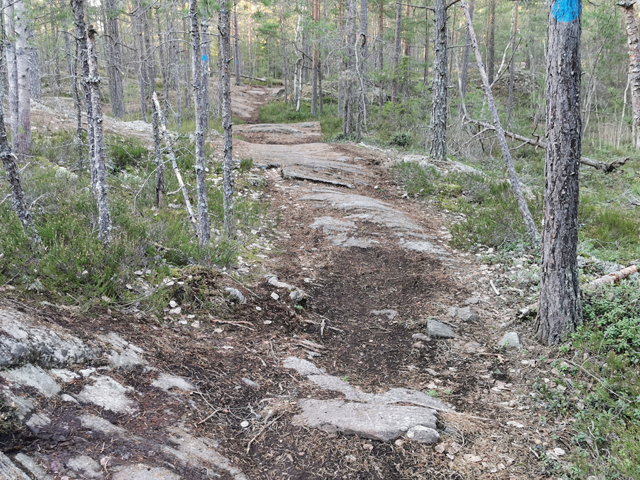 Varied nature.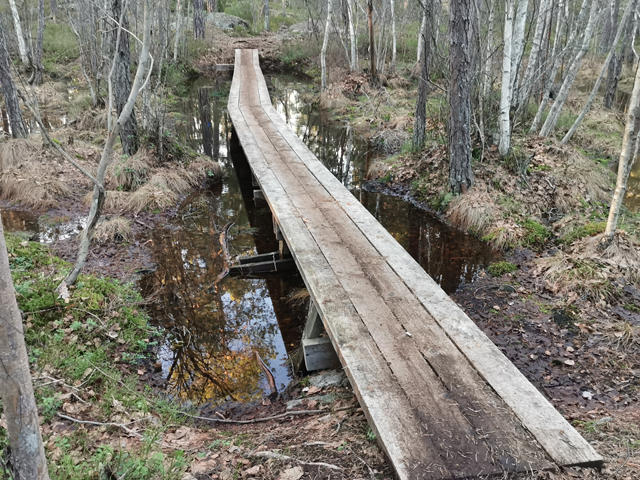 Do you dare?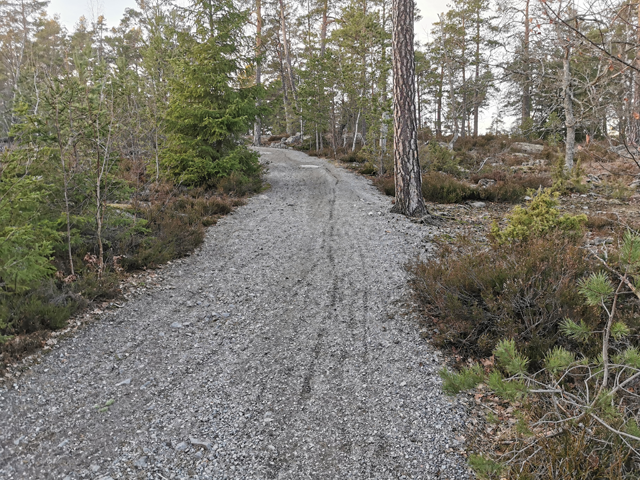 The bike trail is partly on one of our exercise trails, be careful, adapt your speed and respect people walking or running!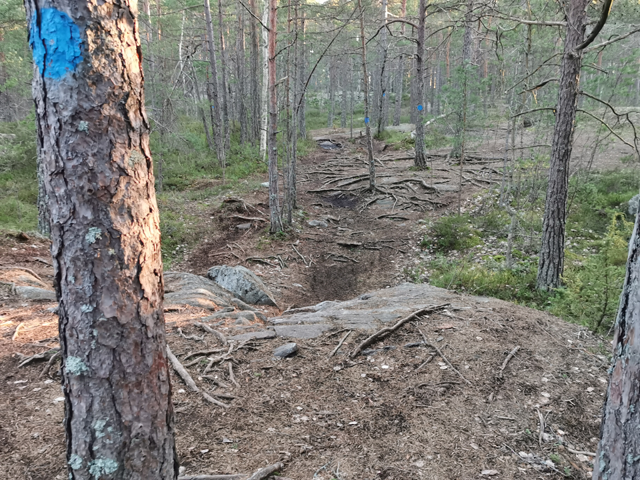 Great variety and mixed challenges. 
Did you know that the City of Stockholm, in cooperation with the Municipality of Nacka, has far-reaching plans for a cycle path in the Nackareservatet? We are following the development, in the very best case the new trail will be in place already this year.
Here you can read more about the planned cycle path and how we want to contribute to fewer new paths is created by making it clear where you can and should cycle.
MTB rental is an activity that we run in close cooperation with Outventures.