Rent cross-country skis at Hellasgården in Stockholm
(Updated 2022-01-13)
Ski rental temporarily closed, back when the season starts.
We only take bookings online. It is not possible to book via email or tel/sms/facebook/instagram/website.
You will find information on prices and cancellation policy on the booking page.
If you are booking for a group - remember that you can book a maximum of 6 people per 15-minute period.
We remind you that there is still a high rate of infection in Stockholm and that a visit to us requires you to take responsibility and follow the recommendations of the Public Health Agency.
There are no changing rooms on site. Come changed.
We can't store your stuff etc. Suggestion: bring a backpack for shoes and other things.
Track status - see track map and information below.
At high load, the different steps of the booking process can take a few seconds, sometimes up to half a minute. Be patient!
Ski trails in the middle of nature - close to Stockholm city!
Track map
Track status (2022-01-11):
Children's ski trail, tracked by the City of Stockholm: no trace
The meadow tracks (football golf), tracked by Stockholm City/Matts Andrée, Järla:
Meadow tracks: 5.7 km: Tracked
Skate track at Stengärdet 1 km: No track
Elljusspåret, tracked by the City of Stockholm/Matts Andrée Järla: 2,3 km: No tracks
Yellow Fifth, tracked by the city of Stockholm, 5 km: No tracks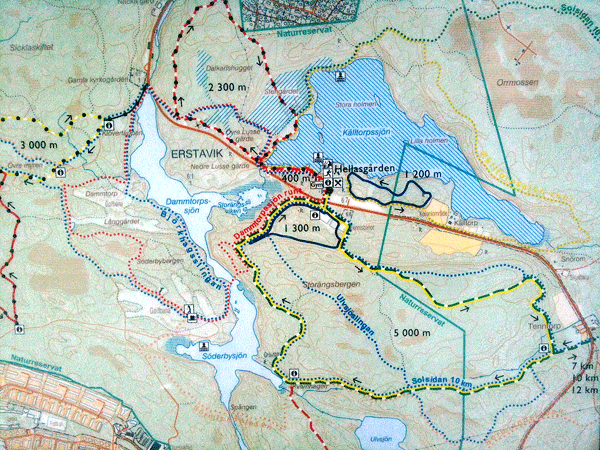 Rent ski equipment with us!
Prices for renting cross-country skis, poles and ski boots
Complete equipment adults: 190 kr/ 1,5 h
Complete equipment youth *: 120 kr/ 1,5 h
Complete equipment adults: 360 kr/ 3 hours
Complete equipment youth: 200 kr/ 3 hours
Valid ID document
When you pick up the equipment you have booked, we require you to show valid identification.
Additional insurance to avoid claims in case of equipment breakdown: 50 SEK/booking
*Youth up to and including 16 years
The ski rental is located in a separate building next to the sauna and fitness centre.